Beschrijving
McIntosh MA252 Integrated Hybrid Amp
De McIntosh MA252 is een hybride geïntegreerde versterker met een volledig buizen voorversterker. Het vermogen is 2 x 100 Watt.
McIntosh MA252 Integrated Hybrid Amp
De McIntosh MA252 is de eerste hybride geïntegreerde versterker van dit iconische merk uit Amerika. De voor-versterking gebruikt twee 12AX7a en twee 12AT7 vacuum buizen. De eindversterking is van het solid state principe en levert 2 x 100 Watt vermogen bij 8Ohm en 160 Watt bij 4Ohm. De McIntosh is een volledig analoge versterker met 2 ongebalanceerde, 1 gebalanceerde en een MM Phono input. Ook is er een subwoofer uitgang voorhanden.
De door McIntosh in eigen huis ontwikkelde nieuwe koelribben met McIntosh Monogram zijn direct verbonden aan geavanceerde "high current" transistoren. Er is daardoor nauwelijks sprake van opwarmtijd voordat u volledig van de muziek van uw keuze kunt genieten.
McIntosh MA252 Integrated Amplifier Receives High Quality Award from HIFI Live Magazine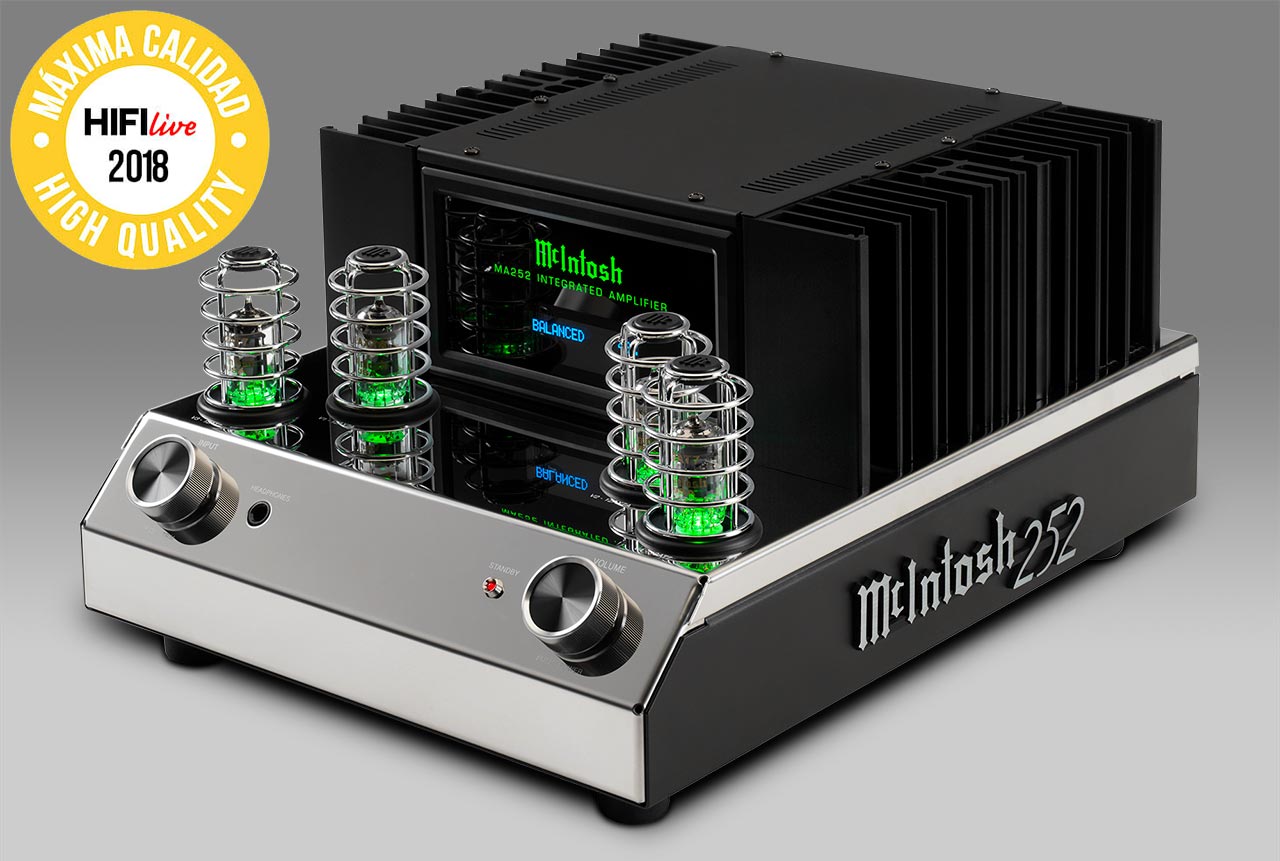 McIntosh MA252 Integrated Hybrid Amp
Een volledig analoog ontwerp, met 2 ongebalanceerde, 1 gebalanceerde en 1 magnetische invoermogelijkheid voor draaitafels. Alle 4 ingangen kunnen gebruikersvriendelijke namen krijgen om het gebruikersbeheer te vereenvoudigen. Met de bas- en hogetonenregeling kun je je muziek afstemmen op je persoonlijke voorkeuren. Een subwooferuitgang met volledig bereik is inbegrepen voor gebruik met een actieve subwoofer om de lage frequenties verder te verbeteren.
Spain's HIFI Live Magazine has reviewed the MA252, an integrated amplifier with a vacuum tube preamplifier paired with a solid state power amplifier .                                                                                                                                                  .
"The McIntosh MA252 is not only a time machine that allows you to travel 30 or 50 years ago [when listening to classic albums], but it also takes you to the future: you spend from morning to afternoon or from evening to night with it in what seems like an instant."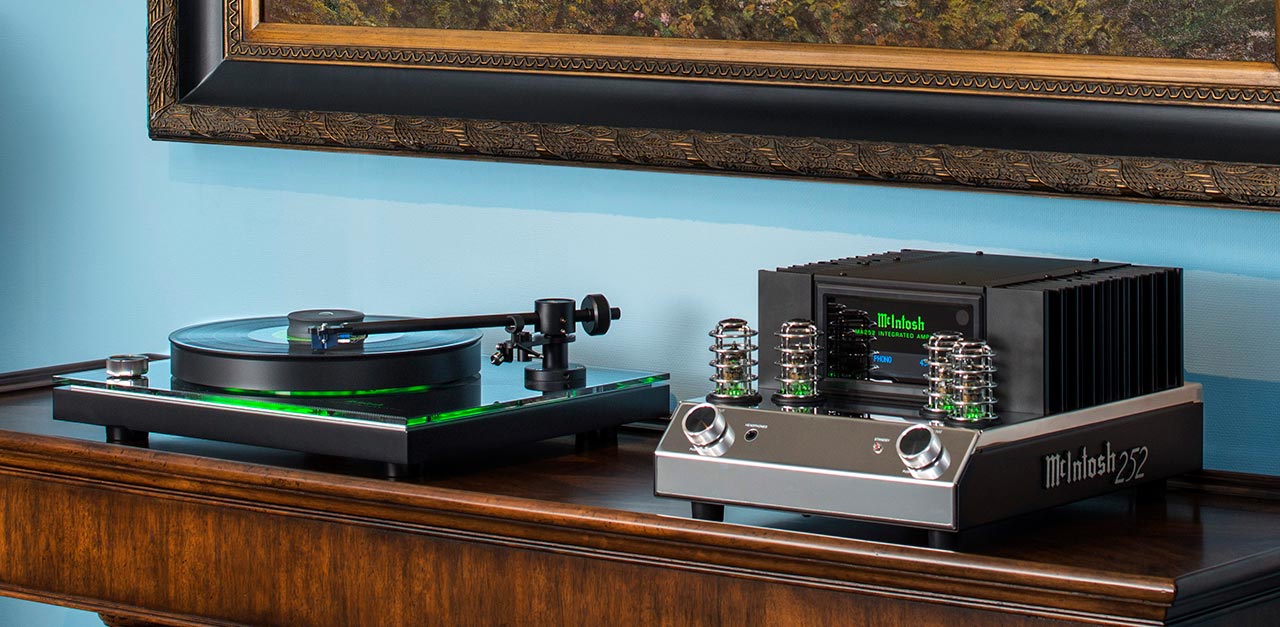 Shown: MA252 Integrated Amplifier and MT2 Precision Turntable. All units sold separately.
"It sonically fills 25 square meters [270 square feet], does its job and disappears from the room." The MA252 received HIFI Live Magazine's High Quality Award.
The preamplifier stage uses two 12AX7a and two 12AT7 vacuum tubes housed inside stylish protective cages; the output stage is a direct coupled solid state amplifier that delivers 100 Watts per channel into 8 Ohm speakers or 160 Watts per channel into 4 Ohm speakers. An all analog design, it comes with 2 unbalanced, 1 balanced and 1 Moving Magnet phono input for turntables. All 4 inputs can be given user-friendly names in order to simplify user control. Bass and treble tone controls help fine tune your music to your personal preferences. A full range
subwoofer output is included for use with a powered subwoofer to further enhance low frequentcies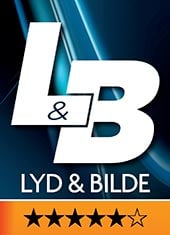 The MA252 features our McIntosh Monogrammed Heatsinks™ which are connected to advanced high current output transistors. These transistors eliminate the typical amplifier warm-up time so that the MA252 is in peak operating condition from the moment it's turned on. A powerful control microprocessor is used for smooth system operation, along with some of the latest audio-grade circuit components that deliver the best possible sound
hanks to its solid state output, the MA252 is our first product containing vacuum tubes to include our patented Power Guard®technology. Power Guard monitors the output signal for signs of over driving and makes real time micro adjustments to the input signal to prevent harsh sounding clipping that could potentially damage your speakers. If Power Guard is activated, the 2 vacuum tubes connected to the affected audio channel(s) will flash an amber color; they will return to their normal green color when the clipping has stopped.
ther McIntosh technologies found in the MA252 include Sentry Monitor™, High Drive headphone amplifier and gold-plated speaker binding posts. Input selection, bass, treble, tone bypass, balance and input offset levels can be adjusted using the front panel knobs or the included remote control; all settings and input selection will be shown on the OLED display. The entire unit sits atop a beautiful polished stainless steel chassis with a classic McIntosh-styled die cast aluminum name badge attached to each side. Contact your local dealer to learn more
Website: McIntosh